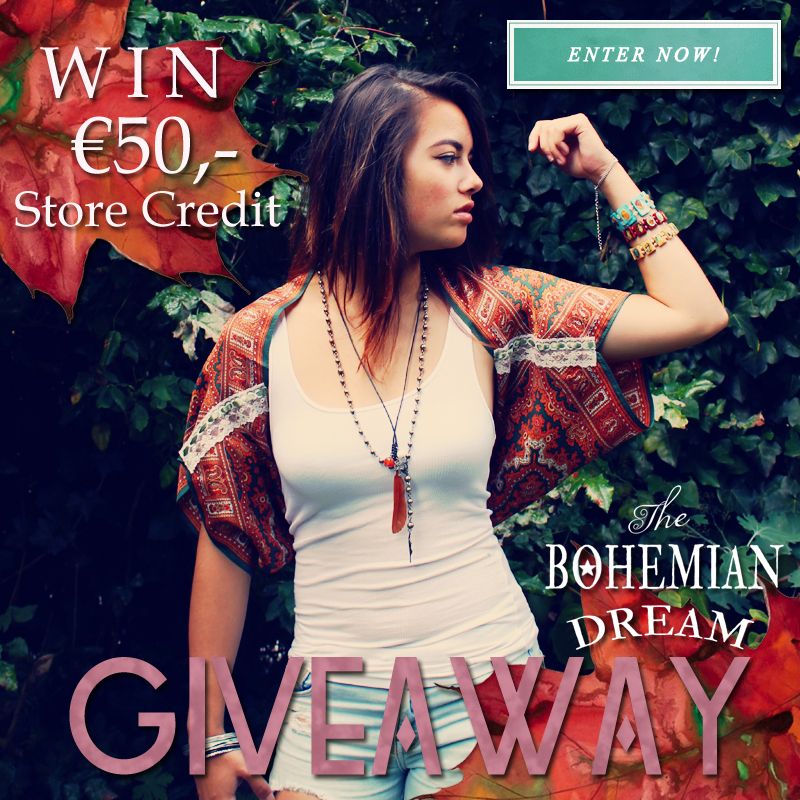 Hey ladies!
How's everyone doing? It has been a while! I had so many things on my plate (including a renovation) and I didn't have time to blog for a while, but I'm back!! A new fresh start, a new layout (what do you think btw?). To celebrate my comeback I'm hosting an awesome Autumn giveway for THE BOHEMIAN DREAM...
ENTER TO WIN €50,- STORE CREDIT TOWARDS ANYTHING FROM THE BOHEMIAN DREAM COLLECTION!
This GiveAway is open INTERNATIONALLY!!!
For all newbies who want to support and enter: THE BOHEMIAN DREAM is an Eco Friendly Upcycled clothing brand, designed by yours truly, using solely vintage, recycled, organic and fair trade materials! I care for the environment and I'm trying to make this world a little better by supporting the goodwill and charity by investing my money in different causes and projects. You can read my detailed bio HERE. With your participation in this giveaway, you'll support my vision, my work and help me to continue helping others. I'll be forever grateful, thank you!
HOW TO ENTER
1. Sign up for The Bohemian Dream NEWSLETTER
2. Follow The Bohemian Dream on INSTAGRAM
EXTRA ENTRIES(optional)
* Follow The Bohemian Dream on FACEBOOK
* Follow me on PINTEREST
* Follow The Bohemian Dream on TWITTER
* Follow and favorite The Bohemian Dream on ETSY
* Follow my blog via BLOGLOVIN'
* Share this giveaway via Instagram, Facebook, Twitter and Pinterest
THIS CONTEST ENDS ON: November 30th at 5pm CET!!

THE WINNER WILL RECEIVE A PERSONAL EMAIL ON DECEMBER 1ST!
Good luck!!
Love,
Lucia
THIS GIVEAWAY IS CLOSED! IT IS NOT POSSIBLE ANYMORE TO ENTER! THE WINNER RECEIVED AN EMAIL ON DECEMBER 1st.